HIGH QUALITY
GRAINFED BEEF
Welcome to our world of high quality grainfed beef
FN Global meat is a true specialist in grainfed beef and has been a market leader ever since the 481 quota opened up for countries such as Uruguay, Argentina and Australia. We offer a wide range of brands, each with its own unique selling points.
We are proud to have been awarded at the World Steak Challenge 2019 in Dublin Ireland with Novillo Real and Grandchester.
Welcome to our world of brands :
NOVILLO REAL - URUGUAY
The philosophy of Novillo Real makes the beef unique. It is the combination of the origin of the beef, the fattening phase, the specially trained trimmers of the cuts and a very close cooperation with our partners in Uruguay. All in order to make Novillo Real special.
The Novillo Real beef is produced from animals of superb quality, according to the EU quota regulation 481/2012 for high quality beef. To comply with this high quality beef standard the animals are kept for a minimum of 100 days in the corrals before slaughter where they are fed with grains. The animals are slaughtered before they reach 27 months of age.
To stand out even in the range of products that follow these specifications, Novillo Real is produced exclusively from the British beef breeds Hereford and Angus. They have been Grain Fed for a minimum of 120 days with diets based on grains and vegetal proteins (Sorghum, Sorghum Flakes, Corn, Soybean Flour and Hulls, and others).
During their stay in corrals the animals go through seven specific diets, based on grains and vegetal proteins, in their different stages. Animal nutrition specialists constantly monitor the growth and health of the individual animals.
All of the above results in the high quality beef of this special brand.

During the World Steak Challenge on 10 July 2019 in Dublin Ireland FN Global Meat has been awarded two golden and one silver award for Novillo Real beef from Uruguay.
The golden awards were won with tenderloin and ribeye. The silver award was won with striploin.
With Novillo Real FN Global Meat won the most awards for beef from Uruguay. Novillo Real gets crowned for its efforts to produce the best grainfed beef from Uruguay and shows it can compete with the best steaks from around the world.
For more information about the Novillo Real products visit NOVILLO REAL
CARNE DEL FUEGO - URUGUAY
Carne del Fuego, the butchers choice, is produced at one of the leading meat packers in Uruguay. This family owned company is a state of the art producer and sources its cattle from a strong loyalty program with its farmers who raise the selected prime steer cattle. At Carne del Fuego the proof is in every detail. From the selection of cattle, animal welfare, feeding, production, packing and quality of packing materials.
Carne del Fuego is an exclusive brand of FN Global Meat and is differentiated in a crossbred program and a 100% Black Angus program.
Carne del Fuego, a trusted brand which stands for perfect selected quality beef, much loved by top chefs.
LATUF ANGUS - ARGENTINA
Argentina might be less known for producing high quality grainfed beef but Latuf Angus has shown to be a very serious competitor in this field.
The producer Agrogranadera Latuf is both a specialized agricultural company as a producer of high quality grainfed beef. It is heir aim to produce high international quality, consumer-healthy and sustainable, environmentally-friendly Argentine beef. They harvest their own crops, rear and care for their own animals from birth, finish the fattening process in their own corrals. Such an integrated span of control can only lead to a year round perfect constant product.
Latuf Angus, a family affair, dedicated to the bone !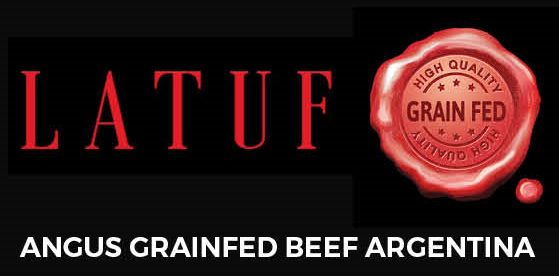 GRANDCHESTER - AUSTRALIA
Grandchester is part of the Phoenix Beef range produced by Mort & Co. Mort & Co's history goes back to 1849 and they are Australia's lot feeding specialist with feedlots in South East Queensland and Northern New South Wales, producing premium grain-finished cattle.
Produced in the rich agricultural region of the Darling Downs in South East Queensland, the Phoenix Beef range has been carefully crafted to deliver a consistently flavoursome product of exceptional eating quality and tenderness.
As a leading and award-winning Australian beef producer, the premium range of Phoenix Beef has been created with integrity, ensuring the highest standards in animal welfare, food safety and traceability. The fully integrated supply chain backed by independent MSA grading, ensures a superior beef product trusted by chefs around the world.
It is fitting then that the Grandchester brand, sourced from heritage bred Angus cattle, promises to deliver impeccable marbling and tenderness with a distinctly old world flavour that will ensure a unique eating experience.
Cattle are hand selected from own herds, and then raised on an exclusive slow-cooked cereal diet.
The award-winning Grandchester is:
Black Angus
Grainfed for up to 200 days
100% MSA graded
100% hormone free
EU certified

In 2018 Grandchester received three awards at the World Steak Challenge in London. Recently during the 2019 challenge they were rewarded with no less then 7 awards in Dublin Ireland.
ASSORTMENT GRAINFED BEEF

Our high quality grainfed beef assortment is available in following cuts:
Topside cap off
Silversde flat
Eyeround
Knuckle
Rumpheart
Rump cap / Picanha
Rump tail / Tri-tip
Flap meat / Bavette
Flanksteak
Striploin chain off
Shortloin / T-bone bone-in (Australia)
Ribeye
Tomahawk / Ribeye bone-in (Australia)
Tenderloin chain off
Chuck roll
Chuck tender
Shoulder clod
Shoulder steak (teres major / petit tender)
Top blade
Brisket
Hanging tender
Inside skirt (Australia)
Short ribs (Australia)
For more information about our grainfed beef brands, available assortment or any technical questions please contact the sales team at FN Global Meat by calling +31-78-6531840 or email sales@fnglobalmeat.com